Buildings account for 40% of the world's primary energy usage, according to the International Energy Agency. Intelligent Buildings can help reduce your building's consumption. Our Certified Energy Manager and CopperTree Analytics service can help you see where you can improve energy usage, and our building automation maintenance can continuously commission your building to improve its efficiency. We have wide experience delivering LEED Certified building systems and install the Earthright Delta Controls product designed and manufactured with ongoing sustainability and performance in mind.
Your building automation system is generating a significant amount of data to analyze. Add to that the integration of HVAC, lighting, access, energy management and other facility systems. How do you effectively visualize the important data from your building? CopperTree Analytics provides energy management and Fault Detection and Diagnostics as software as a service, giving you the power to optimize your building's performance and continuously improve it.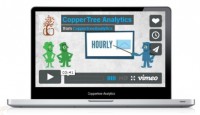 Put simply, CopperTree analytics provides energy management and fault detection diagnostics as software as a service, which delivers you the power to optimize your building performance.

We were frustrated how SMART buildings aren't delivering on the promise 'intelligent' buildings inspired and we know we can fix that. Our mission is to lessen the climate changing impact of buildings by making them easier to monitor and manage.